Welcome to the Early Childhood Development Center
Welcome to the ECDC
The Early Childhood Development Center is a 'living laboratory' where adults as well as children come to learn. We believe that we learn from the children just as much as they are learning from us. The program is designed to promote the development of the total individual by enhancing children's skills through play.
The Early Childhood Development Center really outdid themselves with this one. Last week they hosted a Light Up the Night community event at the Flint Farmer's Market. Over 300 people attended the event and explored all things light. Activities included glow bowling, light and shadow play, lava lamp making, and so much more.
For the past few years the Early Childhood Development Center has taken over the UCEN Art Gallery for a few weeks to display children's art. Their open house is always a bustling event with families coming to see their child's work, faculty and staff popping by, and university students poking their heads in to see what all the commotion is about.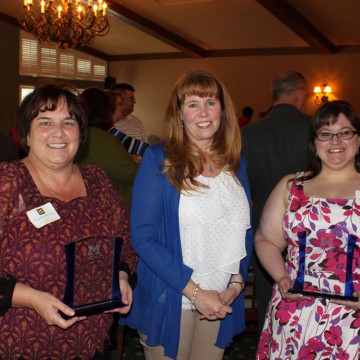 The 30th annual UM-Flint Staff Recognition Dinner was held June 10 at the Flint Golf Club.